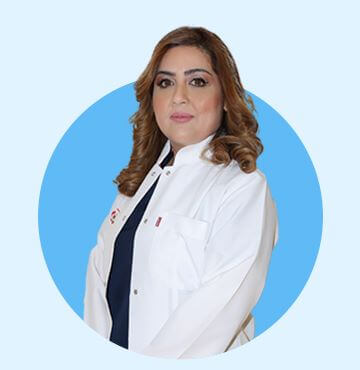 Dr. Boushra Khan
Dermatology and Venereal diseases Specialist
Dr. Boushra Khan
Dermatology and Venereal diseases Specialist
License:
Dermatologist, Venereologist & Cosmetologist with Aesthetic Laser & Skin care focus.
Credentials:
M.Sc. from University of Hertfordshire – U.K.
Post-Graduation in Practical Dermatology from Cardiff University – U.K
MBBS from Pakistan.
Language:
English – Arabic
Professional Experience:
more than 12+ years of hands-on experience.
Services Offered:
• All types of Cosmetology cases such as but not limited to:
Botox for wrinkles and hyperhidrosis
Fillers (for face & body)
Thread Lifting – for face and body lifting
Facial rejuvenation, mesotherapy, profound, profhilo and others
Nose job – non surgical
Aesthetic Laser treatments
Micro Dermabrasion & Chemical peel
Micro Needling
Buttocks lift, enhancement, and volume
Platelet Rich Plasma (PRP) – for face & hair
Hair loss & Alopecia Areata treatment
Scar treatment
Stretch marks treatment
Non-invasive face lifting procedures
Non-invasive body contouring & cellulite treatment, body whitening IV Glutathione / Vitamin C
Radio frequency and HiFu
Carboxy Therapy for dark circles & cellulites
HBOT – rejuvenation and general well-being
All kind of skin care treatments
• Pigmentary disorders, atopic dermatitis, urticaria, psoriasis include management with biologic medicine
• Electrocautery & cryotherapy for destruction of common, plantar and genital warts and Mole removal
• Bacterial, fungal, viral diseases including management of molluscum contagiosum etc.
• Treatment of acne, acne vulgaris, acne rosacea, acne scars and use of different peeling techniques
• Treatment of telangiectasia (thread veins)
• Clinical and cosmetic laser procedures
• Clinical Dermatology: Psoriasis, Lichen Planus, Acne, Eczema, Atopic Dermatitis, Pigmentary skin disorders, Venereal skin diseases, Cryotherapy, and ethnic skin concerns etc.