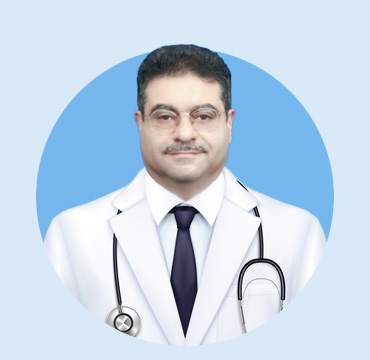 Dr. Hossam Qablawy
Internal Medicine Consultant
Dr. Hossam Qablawy
Internal Medicine Consultant
License:
Consultant Internist
Credentials:
• Mar. 2002 Membership of Royal College of Physicians (MRCP), London, UK.
• Sept. 1993 Medical Council of Canada Evaluation Exam, Toronto, Canada
• 1992-1993 Physiology Course, University of Western Ontario, London, Ontario,
Canada
• Dec. 1982 M.B.Ch.B, Faculty of Medicine, Alexandria University, Egypt.
Language:
English – Arabic
Services Offered:
• Diabetes Mellitus (type 1 and 2)
• Hypertension and atherosclerotic cardiovascular disease
• Hypercholesterolemia and high levels of mixed lipids in blood
• Coronary artery diseases and heart failure.
• Cardiac arrhythmias (irregular heartbeats)
• Anemias: Congenital and acquired types.
• Hypercoagulable blood diseases and deep vein thrombosis
• Irritable bowel syndrome and peptic ulcer disease, infection with helicobacter bacteria
• Endocrine and hormonal disorders.
• Acute and Chronic respiratory problems (bronchitis, pneumonia, asthma, emphysema)
• Urinary tract infection and prostatic related problems.
• Low back pain, osteoporosis, and rheumatic related problems.
• Acute and chronic headaches, migraine, dizziness, and movement disorders.
• Executive periodic health checkup program.
• Pre-marriage counseling and checkup.
• Pre-employment checkup.